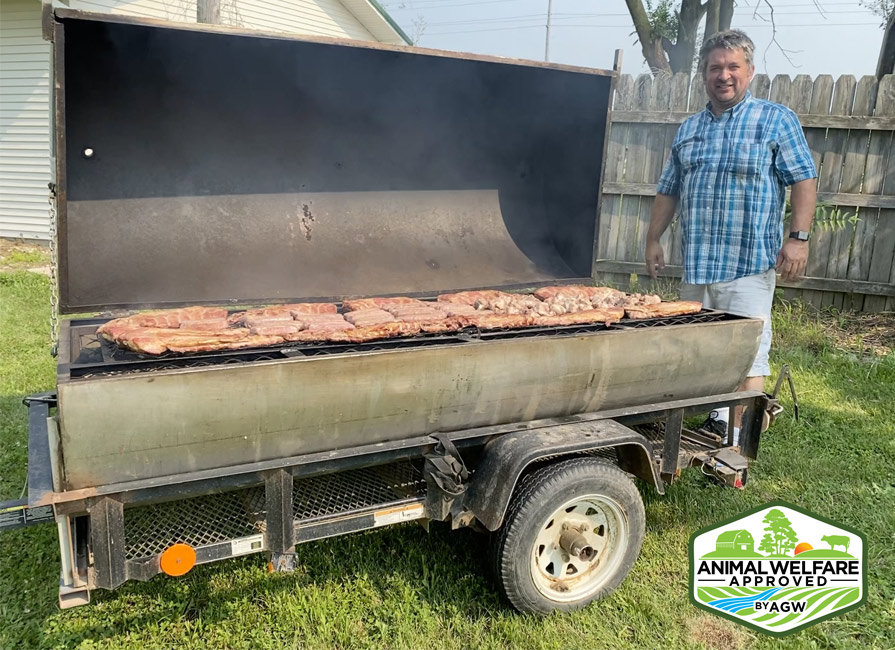 Gunthorp Farms – Lagrange, IN
Greg Gunthorp raises Certified Animal Welfare Approved by A Greener World (AGW) pigs at Gunthorp Farms in Lagrange, IN. Gunthorp Farms is a family-owned livestock farm.  In 1998, Greg Gunthorp was selling live hogs for less than his grandfather did during the Great Depression. It was then that he entered the meat industry—all while still raising high-quality, pasture-raised pigs like his family has for generations before him.
The Gunthorps now raise purebred and crossbred Duroc pigs in virtually the same manner as the previous four generations. "Our pigs are raised "farrow to finish" on pasture and no crates or artificial insemination are use," says Greg Gunthorp. "We allow the pigs to breed and give birth naturally.  Our sows have great instincts when it comes to building their nests and caring for their piglets."
The pigs at Gunthorp Farms are raised outdoors on pasture. "Because of the breed, diet, and pasture-based production method we use to raise our pigs, we are proudly able to say that our pork is not "the other white meat," says Greg. "Pork should have coloring, marbling, and flavor, and ours does!"
Gunthorp Farms Certified Animal Welfare Approved by AGW pasture-raised pork is sold direct from the farm and online through the farm's website. For more information about Gunthorp Farms visit gunthorpfarms.com or contact the farm by calling (260) 367-2708. Follow the farm on Facebook, Twitter and Instagram.