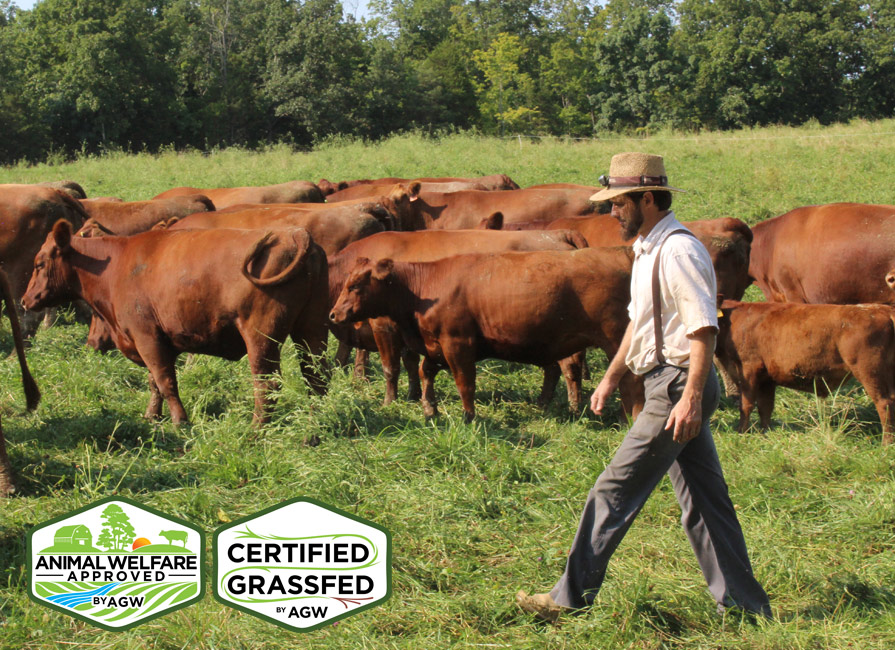 Horsefly Valley Farm – West Union, OH
Steven and Roseann Yutzy raise Certified Animal Welfare Approved by A Greener World (AGW) beef cattle at Horsefly Valley Farm, a 220-acre farm on gently rolling pasture, in West Union, OH.
In addition to being Certified Animal Welfare Approved by AGW, the herd of cattle at Horsefly Valley Farm are Certified Grassfed by AGW, the first—and only—food label in the U.S. and Canada that guarantees food products come from animals fed a 100% grass and forage diet, and raised entirely outdoors on pasture or range.
Steven Yutzy grew up farming but started raising his own herd of cattle in 2010. "I've been around cattle all my life, but just really got started in the grassfed market recently," says Steven. "I came across Grass Farmer magazine and what I was reading about grassfed cattle made sense, so I set my sights on doing things that way. It was more appealing to me to use the land this way than conventionally with chemicals."
The Yutzys raise about 50 head of mama cows plus their offspring. "We are raising Red Angus cattle because they are heat tolerant and have a great temperament, making them easy to handle," says Steven. "This breed also does well on grass, and finding a breed to thrive on 100% grass is my goal."
At Horsefly Valley Farm the cattle graze one section of pasture before being moved to fresh fields. Practicing rotational grazing is a foundational part of their cattle management, as it allows grass to recover before cows return to graze again, and keeps the soil properly fertilized and minimizes the build-up of internal parasites, thereby avoiding reliance on chemical treatments.
With the growing disconnect of consumers from the source of their food and growing demand for meaningful welfare standards, Horsefly Valley Farm found it essential to have third-party validation demonstrating their exceptional practices to a market hungry for truthful information about their food. "Reading through the program standards, I recognized that what was required was what I was already doing and I wouldn't have to change much to be certified. Knowing this might help my sales, I found there could be many benefits to getting certified."
Horsefly Valley Farm Certified Animal Welfare Approved by AGW, Certified Grassfed by AGW beef is sold direct from the farm. For more information about Horsefly Vallely Farm, or to place an order, contact the farm by emailing horseflyvalleyfarm@ibyfax.com or calling (937) 544-7838.