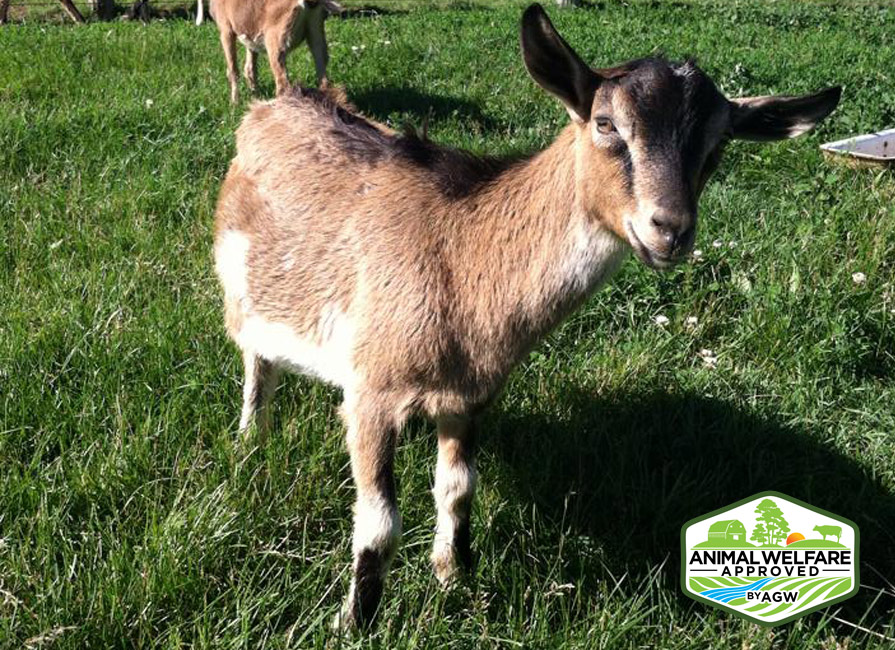 J2K Capraio—Walkerton, IN
Joe and Jody Klinedinst and their four children raise Certified Animal Welfare Approved by AGW dairy goats outdoors on pasture at J2K Capraio in Walkerton, Indiana.
Both Jody and Joe come from farming families. Jody's father is a retired grain farmer and Joe grew up raising and showing dairy goats, including 10 years of 4H membership. "I've worked and handled and been around dairy goats probably every year of my life," says Joe. Jody and Joe went into business after college, but then purchased 22 acres, built their home and barns, and started developing the farm. They eventually purchased their first dairy goats in 2000.
The Klinedinsts rotationally graze a mix of around 40 Nubian and French Alpine dairy goats on 8 acres of pastures. "Our soil is sandy loam, which is a great soil to raise animals on because it has a dryness to it, which helps control parasites," Joe explains. "The benefit of pasture-based management is that it gives animals space. Space is huge, especially with ruminants, and being able to eat fresh green grass, forages and browse, and experience a natural habitat produces healthy, hearty animals."
The Klinedinsts selected the Nubian and French Alpine breeds because they are well suited to pasture-based management and producing high quality milk for cheeses. "Nubians produce lower yields, but the milk is very high butter fat, while the Alpines are a bit heartier and known for their high milk production," says Joe. "I'm very passionate about raising these breeds, but the best goat's cheeses have traditionally been made from mixing these two milks, and we've had great success with this model in crafting our own cheeses."
Looking to the future, Joe and Jody hope to expand their herd and have plans to open Indiana's largest underground cheese cave—measuring 40' x 16' and capable of storing 20,000 pounds of cheese—to keep up with production. The Klinedinsts decided to pursue certification as a tool for their business as they continue to grow. "It's one thing to sell and communicate our practices to our customers, but it's another thing to have someone else confirm what we're saying—and hold us to task and encourage us to improve what we do as we continue to grow," says Joe. "It's a benefit to be able to show a trusted, independent third-party certification like Certified Animal Welfare Approved by AGW to our customer base."
Certified Animal Welfare Approved by AGW goat's milk cheeses from J2K Capraio are available at the farm's cheese shop, as well as the Logan Square and Green City Farmers' Markets in Chicago and Oh Mamma's On the Avenue in South Bend. For more information visit their website or follow J2k Capraio on Facebook and Instagram.