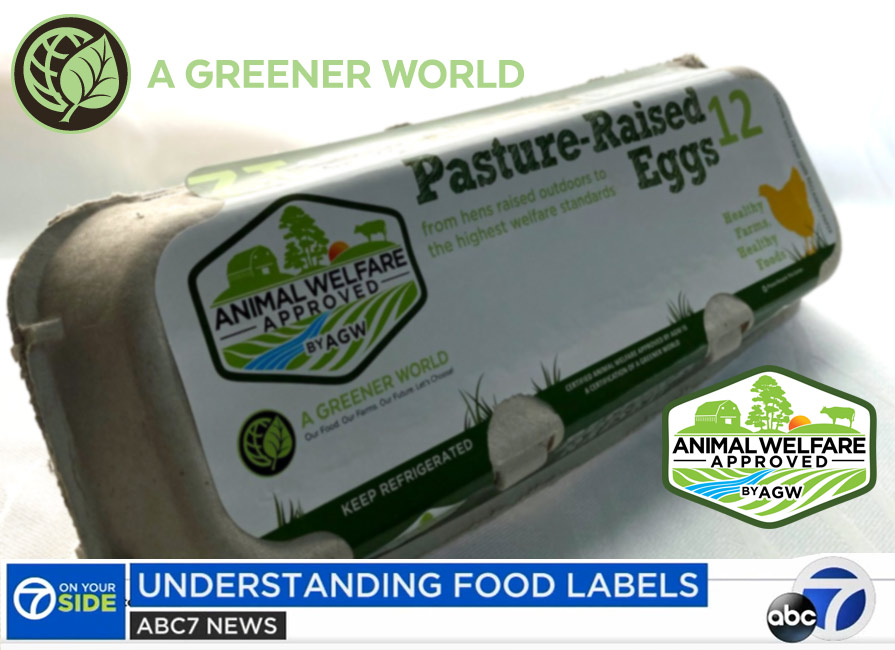 As Seen On ABC News 7 – Consumer Reports' Food Label Recommendations
Have you ever wondered how farm certifications can help make it easier for you to make greener food shopping, cooking and eating choices?
Take a look at this ABC News 7 piece that focuses on exactly that, looking at A Greener World's Animal Welfare Approved by AGW certification. A Greener World (AGW) identifies, audits, certifies and promotes practical, sustainable farming systems by supporting farmers, ranchers, other food producers, and by informing consumers.
The segment highlights Consumer Reports' recommendation that "Animal Welfare Approved is a seal worth searching out." See the segment here.
Also featured in the segment is Donna Simons, owner of Pound Ridge Organics in New York, where she raises Certified Animal Welfare Approved by AGW laying hens. Donna says, "Raising animals according to the highest standards is the most important thing I can do, as a farmer, as a supplier of food, and as an educator."
Consumer Reports has published a recent guide which analyzed and rated many of the food labeling seals and claims that consumers encounter when shopping. A Greener World's Certified Animal Welfare Approved by AGW certification has been designated as the only "highly meaningful" label for farm animal welfare, outdoor access and sustainability—and the only animal welfare certification in which they have confidence.
AGW's growing family of trusted certifications includes Certified Animal Welfare Approved by AGW, Salmon Welfare Certified by AGW, Certified Grassfed by AGW, Certified Regenerative by AGW and Certified Non-GMO by AGW. Each program is designed to have positive and measurable impacts on the environment, society and animals, and to encourage truly sustainable farming practices. AGW's standards and procedures are robust, transparent and achievable.
As a nonprofit funded by donations, A Greener World offers a range of resources to help people make informed food choices, including an Online Directory of certified farms and products and Food Labels Exposed—a definitive guide to food label claims (available in print and online). For more information visit agreenerworld.org.