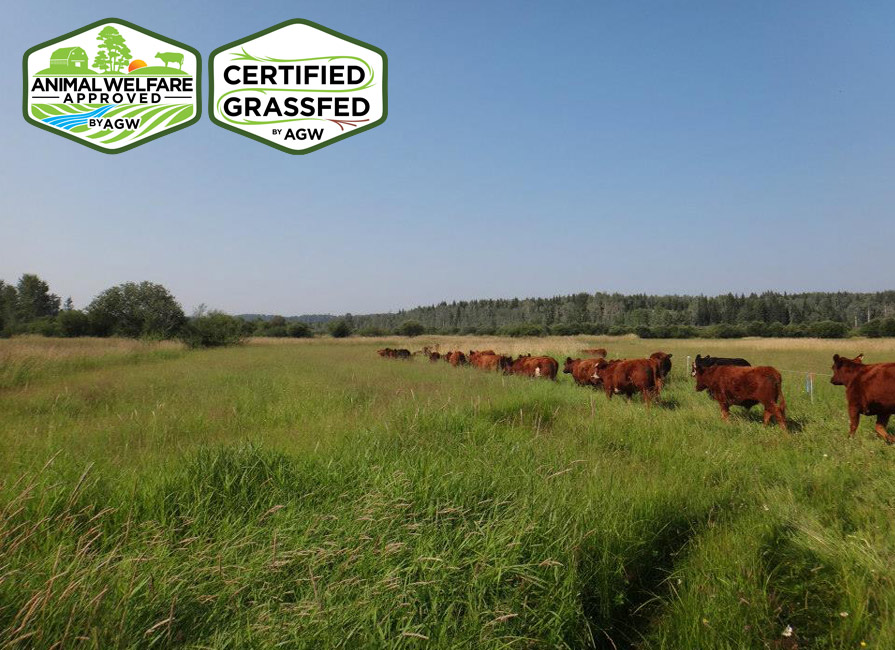 Big Bear Ranch – Horsefly, BC
Rainer and Gigi Krumsiek immigrated from Germany to British Columbia in 1993. Two years later, they purchased Big Bear Ranch—2,300 acres of mixed pasture and woodland in the foothills of the Cariboo Mountains and the perfect place to fulfill their dream of living from the land. The family went to work making the property a functioning farm and home.
The Krumsieks began with dusty, light-colored soil with poor water retention. Just over 20 years later, Rainer is proud to say their soil is almost black and crumbly, with plenty of organic matter to increase fertility and hold more water. This dramatic improvement is largely due to the family's commitment to raising livestock using holistic management practices. They began with cattle and eventually added sheep and pigs, with the belief that every farm is an organism in itself and everything must work together. All of the Krumsieks' animals are raised outdoors on pasture where they benefit from the nutritious grasses grown in Big Bear Ranch's rich soil, and leave behind their manure.
The Krumsiek's commitment to pasture-based production stemmed from an understanding that raising animals outdoors on pasture has benefits for animal, land and human health. In 2010, they were recognized for their excellent land stewardship by the British Colombia Cattlemen's Association Environmental Stewardship Award. The award recognizes a producer "who goes above and beyond standard industry conservation practices, setting a positive example for fellow producers and the general public."
Gigi passed away in 2013 and Rainer has continued, with the help of his son, Florian, and daughter-in-law, Steffi, to produce high quality meat with the same commitment to stewardship and health that he and his wife practiced. Today, the ranch is home to 120 head of Certified Animal Welfare Approved by A Greener World (AGW), Certified Grassfed by AGW Galloway-cross beef cattle, a flock of Certified Animal Welfare Approved by AGW, Certified Grassfed by AGW Dorper-cross meat sheep and 70 Certified Animal Welfare Approved by AGW Tamworth-Large English Black hogs. The Krumsieks chose the breeds they raise for their suitability to the local climate and to pasture-based systems.
Their focus on Galloway genetics, for instance, has resulted in cattle with a small frame so they finish faster on pasture than larger animals, and a double hair coat to insulate them through the cold British Columbia winters—not to mention its exceptionally juicy and flavorful meat. The ranch stops slaughtering animals four weeks after lush green grazing becomes unavailable following the onset of winter, so their product is consistent, nutritious and delicious.
Rainer decided to pursue Certified Animal Welfare Approved by AGW certification for his pigs and Certified Grassfed by AGW for his cattle and sheep because he felt it was more stringent and independent than any other farm certification—and truly communicates the ranch's production methods and philosophy. The Certified Grassfed by AGW label is the only certification and logo in the U.S. and Canada that guarantees food products come from animals fed a 100 percent grass and forage diet, raised outdoors on pasture or range for their entire lives, and managed according to the highest welfare and environmental standards on an independent farm.
"I always ask our new customers what's important to them," says Rainer, "and the first thing they say is either grassfed and grass-finished meat or animal handling. So I thought the Certified Animal Welfare Approved by AGW label would be a good way to communicate this to our customers. Since we already met the programs requirements, why shouldn't we be recognized?"
The ranch now has a customer list of over 650 people who buy Big Bear Ranch meats online by the cut, quarter, half or whole animal. Rainer makes deliveries to the Okanagan and Vancouver areas every four weeks.
To learn more about the ranch, or to place an order, visit bigbearranch.com, or email Rainer at info@bigbearranch.com.