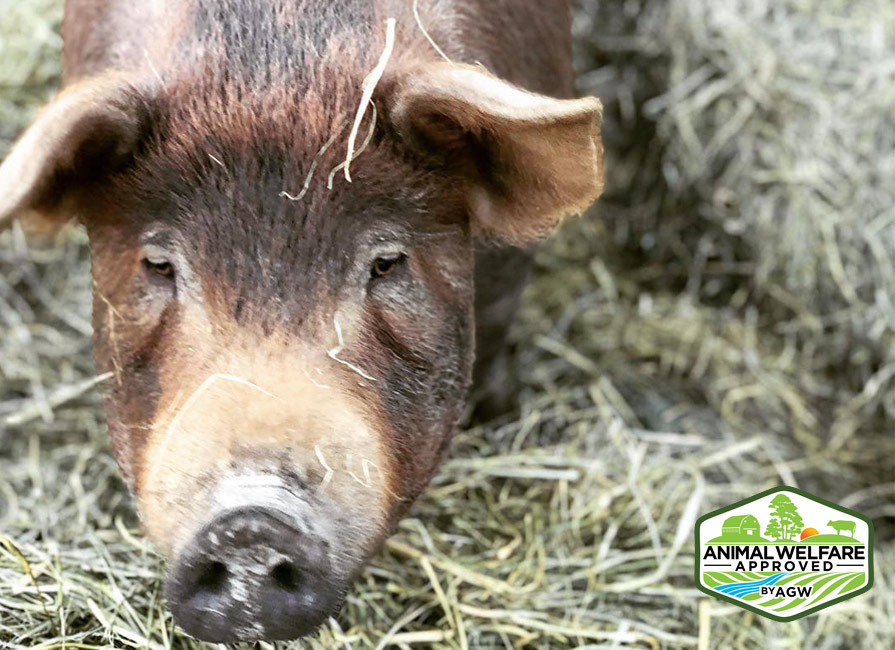 Basel, LLC – Rhoadesville, VA
Frauke Bruns and her partner, Doug Zemanek, raise Certified Animal Welfare Approved by A Greener World (AGW) pigs at their farm in Rhoadesville, Virgina.
Frauke grew up on a dairy farm, but took a detour during school to study pharmacy. "After working in the pharmaceutical industry for many years, I decided to go back into the farming business and try to utilize what I learned from the industry's supply chain and quality management departments," says Frauke. "Between 2012 and 2015, my partner and I bought 170 acres, mostly woodland. We fenced in a total of 55 acres and started raising pigs in 2016."
Their 170 acres is split between two properties: "Our home is on 20 acres of mostly wooded land, half of which cannot be used for farming due to steep hills and a very narrow size," explains Frauke. "We bought a further 150 acres in Locust Grove, about 10 miles away from our home. This property was timbered out 15 years ago and is partly planted with pines trees, which can be timbered in some years."
Frauke and Doug originally purchased six of each Large Black and Red Wattle hogs for their pork operation. "The piglets born in January 2017 are either purebred Large Black or mixed breed 'Black Wattles'," Frauke explains. "Both the Large Black and Red Wattle are ideally suited for outdoor management and have good mothering characteristics." The farmers choose to raise both mixed and pure breeds for two main reasons. Crossbreeding the Large Black with Red Wattle—known as "Black Wattle"—produces pork that is tender, but has less fat than Large Black alone. Second, Frauke wants to help conserve the Large Black breed by registering some purebred piglets to sell to breeders.
Raising animals outdoors according to the highest welfare standards is a central foundation of the farm's management. "We want to treat our animals with respect and with all necessary care," explains Frauke. "We offer shelter from extreme weather, provide fresh water and supplemental feed, and move the animals regularly to fresh ground to minimize the potential buildup of disease. We observe our pigs closely and treat any that are sick, and do all we can to ensure our animals produce healthy offspring."
Frauke and Doug decided to apply to the Certified Animal Welfare Approved by AGW program for many reasons: "The Certified Animal Welfare Approved by AGW standards are very appropriate for our farm. The certification reflects our management practices, including raising our pigs outdoors, mainly foraging in the woods. For the customer, it provides evidence that the animal had a good healthy life."
As well as producing the highest quality pork they can, Frauke and Doug are working hard to ensure the economic viability of the farm. "We are aiming for low investment and low maintenance farming," explains Frauke. "Indoor pig production requires huge investments in buildings, air conditioning, water supply and waste treatment; the running costs are not only on maintaining the investments but also buying feed, which can be a substantial cost driver. For pasture-based management, the main investments are huts, water supply and fencing, which represent comparatively moderate running costs. Our feeding costs are also relatively low."
Certified Animal Welfare Approved by AGW pork from Basel, LLC is available by the half or whole hog. Delivery is available within 50 miles of Rhoadesville. Farm tours are offered throughout the year. For more information, visit porkstork.com and find them on Facebook and Instagram. Contact Frauke Bruns at theporkstork@gmail.com.