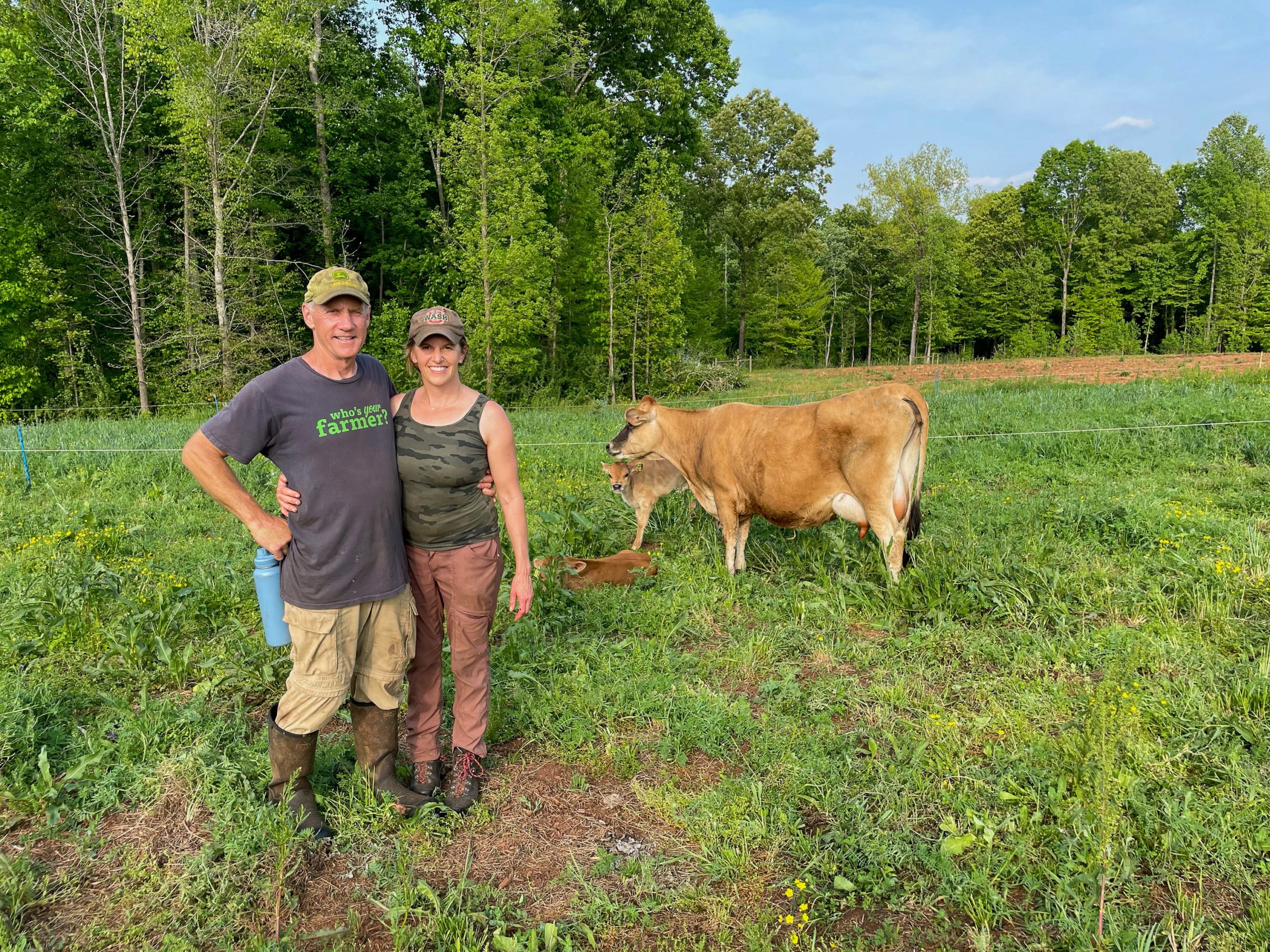 Reverence Farms – Graham, NC
Suzanne Nelson Karreman and her family, along with a dedicated and passionate farm team, raise Certified Animal Welfare Approved by A Greener World (AGW) dairy cattle and beef cattle at Reverence Farms in Graham, North Carolina.
Suzanne is a first generation, full-time farmer. A former reporter in Washington, she moved to Saxapahaw in 2007 and established a small homestead—and has never looked back. She now farms 400 acres with her husband and organic veterinarian, Hubert Karreman, who she met at a farming conference, and their family, including Suzanne's brother, Connor Nelson, who co-manages the farm. "Reverence Farms is a diversified, thriving polyculture where animals are treated with reverence and grace, earthworms are cherished and all critters eat a species-appropriate diet," Suzanne explains.
The Certified Animal Welfare Approved by AGW dairy cattle are managed outdoors on pasture according to the highest animal welfare standards, something of great importance to Reverence Farms' management ethos. "We raise our dairy calves on mama cows with all the milk they can drink and the normalcy of running in a mixed-aged herd," says Suzanne. "We do this to ensure the best and brightest dairy herd for the future and to provide an outstanding life." The Certified Animal Welfare Approved by AGW beef cattle on the farm are also rotationally managed, grazing one section of pasture before being moved to fresh fields. This type of management allows grass to recover before cows return to graze again; it also keeps the soil properly fertilized and minimizes the build up of internal parasites, thereby avoiding reliance on chemical treatments.
Certified Animal Welfare Approved by AGW beef is available online at reverencefarms.com, with on-farm pickup in Graham. Check the AGW directory for further details. Suzanne and Hubert also host regular farm tours. For more information about Reverence Farms, follow the farm on Facebook, Instagram and YouTube, contact the farm online or call 336-266-9416.