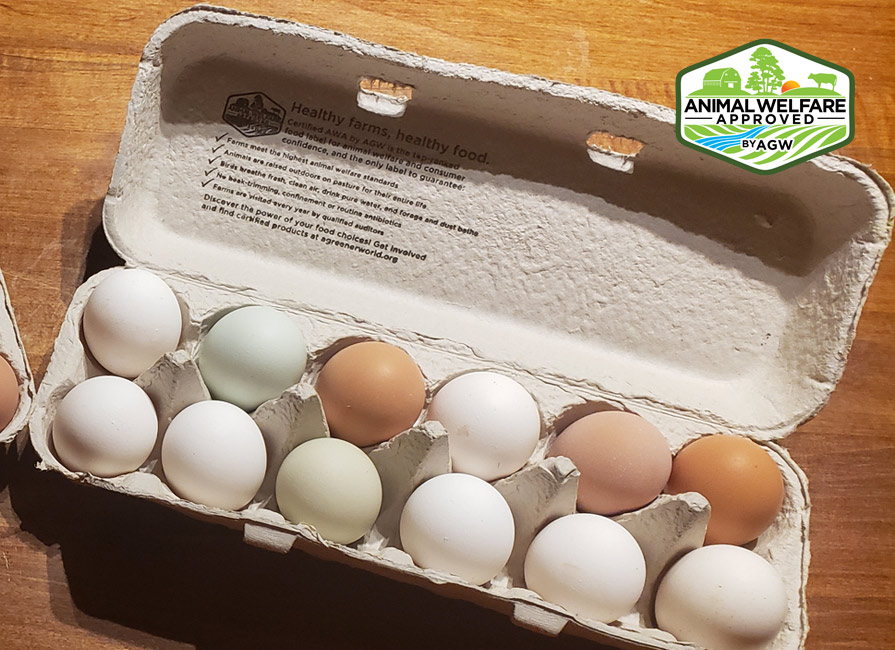 River Basin Farms – Passadumkeag, ME
Katie Rossignol raises Certified Animal Welfare Approved by A Greener World (AGW) laying hens at River Basin Farms in Passadumkeag, Maine.
The Certified Animal Welfare Approved by AGW certification and food label lets consumers know these animals are raised outdoors on pasture or range in accordance with the highest animal welfare standards in the U.S. and Canada, using sustainable agriculture methods on an independent farm. Consumer Reports has rated Certified Animal Welfare Approved by AGW as the only "highly meaningful" label for farm animal welfare, outdoor access and sustainability—and the only animal welfare certification in which they have confidence.
"On this farm, we work with nature as much as possible to provide for our animals and crops," says Katie. "On our 5-acre farm in Passadumkeag, our pasture-raised chickens lay eggs that are claimed to be the tastiest from our customers experience. We have worked hard to make sure that we are reputable and provide our customers with the quality they deserve. By being Certified Animal Welfare Approved by AGW, it shows our commitment for transparency and our respect for the value of certification. This certification means that our chickens live out their lives on pasture, they get to play and dig in the dirt and catch the sun's rays."
Certified Animal Welfare Approved by AGW pasture-raised eggs from River Basin Farms can be purchased direct from the farm. For more information visit RiverBasinFarmsLLC.com. You can also follow the farm on Facebook and Instagram.