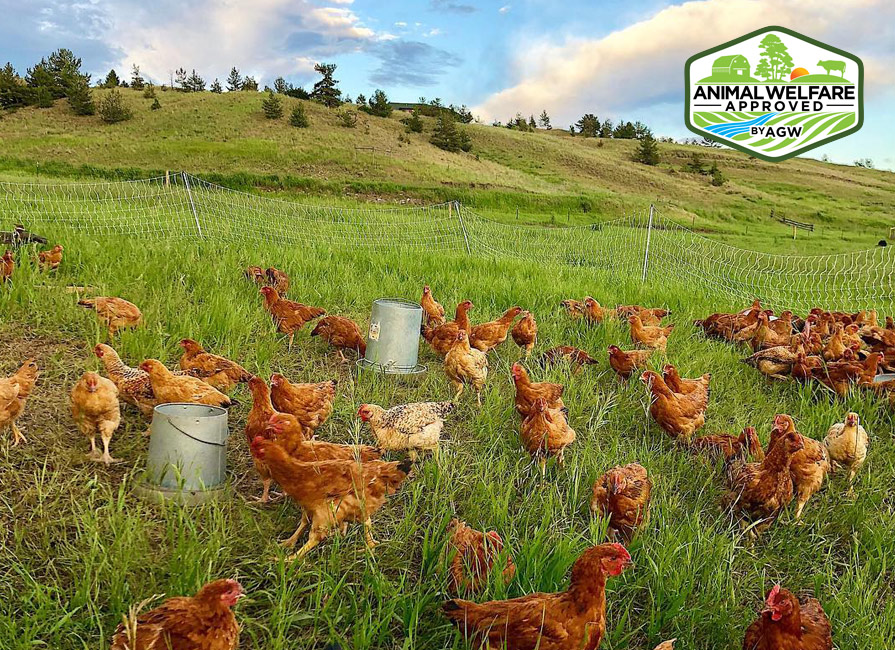 Black Dog Farm – Livingston, MT
Black Dog Farm was established in 2017 and is owned and operated by the husband-and-wife team of Tim and Kira Jarosz and their daughter Dottie. The farm consists of 30 acres nestled in beautiful Livingston, Montana. The Jaroszes raise a flock of Certified Animal Welfare Approved by A Greener World (AGW) chickens for meat. "We believe raising animals outdoors on pasture, where they can express their natural behaviors, produces healthier, tastier food and is better for the animals and better for the environment," says Tim.
Freedom Ranger chickens from the Freedom Ranger Hatchery are raised on Black Dog Farm. They start in a brooder but are moved out to pasture as soon as they are old enough (generally 2-4 weeks). In the pasture they have plenty of space to run and lots of forage as well as protection from predators with the help of the livestock guardian dogs and movable shelters. In 2020, the Jaroszes constructed a state inspected on farm poultry processing facility. With this facility in place, they are able to process all of their meat chickens on their farm ensuring the highest standards for safe handling and processing are met.
Certified Animal Welfare Approved by AGW chicken from Black Dog Farm can be purchased through their website shopblackdogfarmmt.com, or by signing up for their CSA. For more information, email blackdogfarmmt@gmail.com and follow them on Facebook and Instagram.