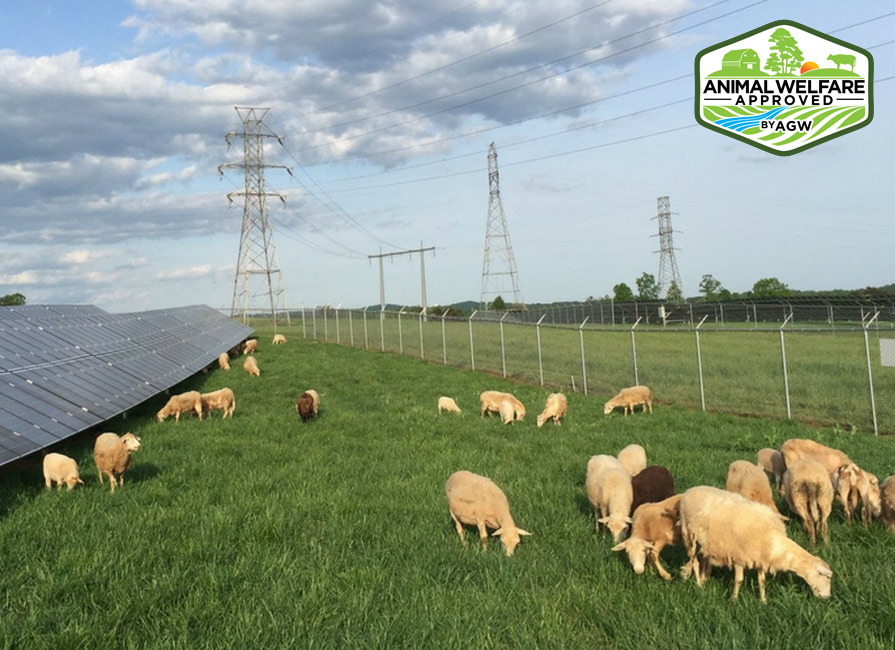 Montgomery Sheep Farm – Biscoe, NC
Tonje and Joel Olsen raise Certified Animal Welfare Approved by A Greener World (AGW) sheep at Montgomery Sheep Farm in Biscoe, North Carolina. Montgomery Sheep Farm is one farm in the larger network of farmers comprising a ground maintenance company that uses sheep to graze the grounds on solar farms in the Southeast. This model creates benefits for solar companies, rural communities, family farmers, consumers and the environment.
The Certified Animal Welfare Approved by AGW sheep at Montgomery Sheep Farm, have constant access to pasture and grazing land, eating a diet of grass and forage throughout their lives. This promotes the health and welfare of the animal as well as the environment – all while promoting optimal conditions for the solar modules, since sheep provide vegetation maintenance, keeping weeds and grass under control in a sustainable way.
The Olsens manage flocks of Dorper and Katahdin sheep, raised for meat rather than wool. Dorpers and Katahdins are easy-care breeds with short, light 'hair' coats that don't require shearing. This makes the breeds an excellent choice for the climate in North Carolina. The breeds are also known to product lamb with a delicious mild and sweet flavor.
For more information about Montgomery Sheep Farm, contact Tonje Olsen at info@sunraisedfarms.com and 844-417-4337. Follow them on Facebook and Instagram.