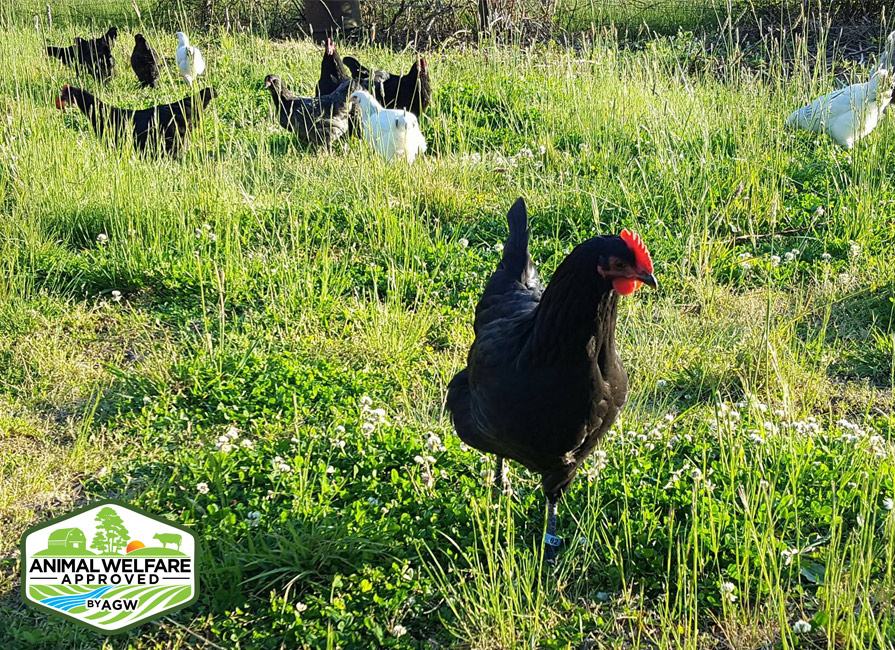 Swingletree Farm – Aurora, OR
Kim Biafora raises Certified Animal Welfare Approved by A Greener World (AGW) laying hens at Swingletree Farm in Aurora, Oregon. Kim and her partner, Breckinridge, are passionate farmers and have long been inspired by the Local Food Movement and the concept of safe, healthy, and wholesome food produced in a manner that minimizes impact to the environment and maximizes animal welfare.
Swingletree Farm is 25 acres of hill and dale in the French Prairie region of the northern Willamette Valley near the historic town of Aurora, Oregon. The flock of laying hens is raised outdoors and enjoy free range on the lush pasture and fertile gardens at Swingletree Farm. The flock is made up of Black Australorp, Delaware, and Americauna chickens. "These heritage breeds are all hardy, healthy, and productive layers, and have excellent meat qualities as well," says Kim. "We maintain our layers in smaller, natural flocks, each with an ever watchful rooster on the guard. We produce our own chicks here on the farm, allowing them to be naturally raised by a doting mama hen whenever possible, which allows us to sustain and improve our flocks over time without having to rely on commercial hatcheries."
At Swingletree Farm, Kim and Breckinridge's goal is to create a self-sustaining "farm ecosystem" that is diverse, resilient, and adaptable. They are very proud to be Certified Animal Welfare Approved by AGW for their laying hens. "Gaining this certification for our pasture-raised eggs means that we adhere to rigorous animal welfare and environmental sustainability standards for our laying hens," says Kim. "We are thrilled to receive this recognition!"
Swingletree Farm's Certified Animal Welfare Approved by AGW eggs are available through the farm's CSA, with delivery available to most Portland neighborhoods or Wilsonville/Canby/Aurora. To order or find out more about the farm and products visit swingletreefarm.com. To contact the farm call (503) 893-8520, email info@swingletreefarm.com or visit the farm on Facebook or Instagram.