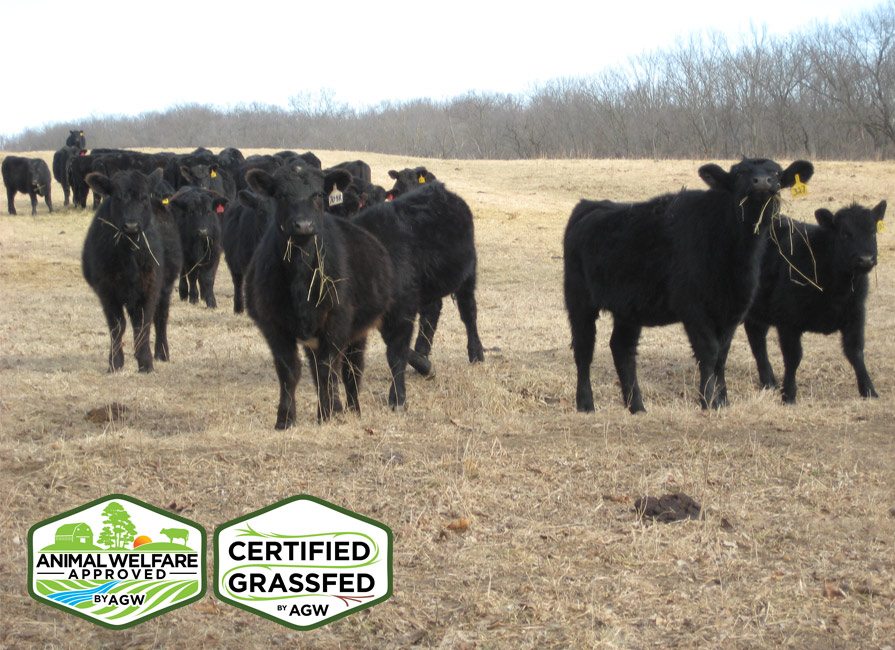 Mel and Joyce Williams of MJ Ranch raise Certified Animal Welfare Approved by A Greener World (AGW), Certified Grassfed by AGW cattle on 670 acres of beautiful rolling hills, just north of Lawrence, Kansas. Certified Grassfed by AGW is the first—and only—food label in the U.S. and Canada that guarantees food products come from animals fed a 100 percent grass and forage diet, raised entirely outdoors on pasture or range, and managed according to the Certified Animal Welfare Approved by AGW leading welfare and environmental standards.
Although he was raised on a farm, Mel left as a young adult to pursue another career. Joyce began helping out on Mel's parents' family farm after their marriage in 1960 and, after retiring in 1994, Mel purchased a small herd of cattle from his family and returned to farming himself. Joyce's experience as a registered nurse inspired her interest in healthy eating, and ultimately led her to take charge of MJ Ranch's marketing efforts.
In 2002, Mel and Joyce made a decision to focus on producing the healthiest product possible, and to begin selling direct to their customers. They were driven by their knowledge that cattle were designed to eat grass and forage, not grain, and their belief that farming could be sustainable for both the farmer and the environment. Their commitment is to raise 100 percent grassfed cattle using only high-welfare practices, like the standards set forth by Certified Animal Welfare Approved by AGW and Certified Grassfed by AGW programs. Realizing the increased nutritional benefits of 100 percent grassfed beef, they transitioned to an entirely pasture-based system and sought Certified Grassfed by AGW certification. Mel and Joyce welcome visitors and encourage customers to "come and see that we do what we say we do!"
For more information about Certified Animal Welfare Approved by AGW, Certified Grassfed by AGW beef from MJ Ranch, including their current store listings, and pickups of quarters, halves, or wholes at their USDA processors, visit mandjranch.com. Follow MJ Ranch on Facebook and Instagram.