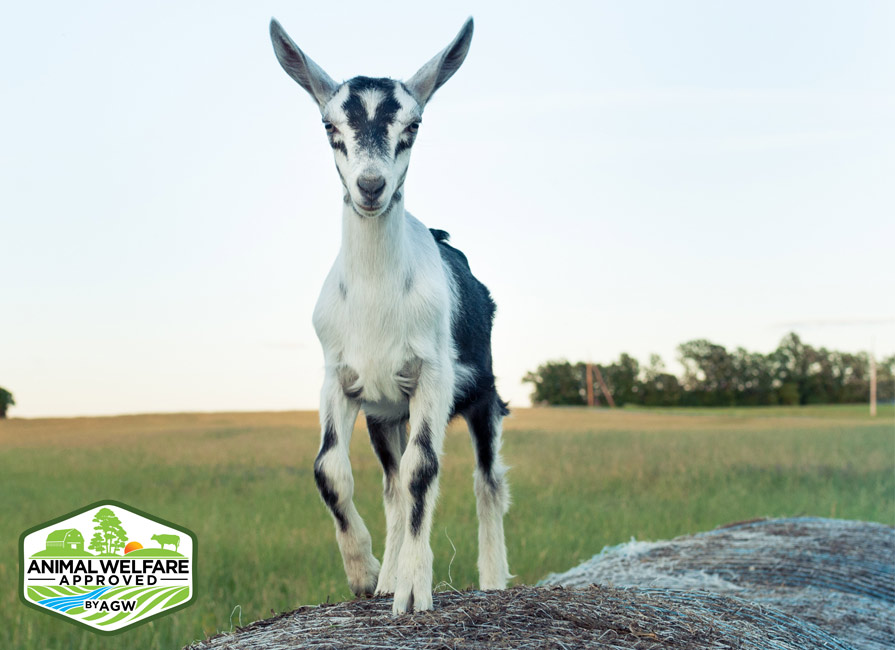 Ice House Farm – Goshen, VT
Morgan and Chad Beckwith originally began farming in on rented land in Addison County, VT, after working on a few nearby livestock farms. In October 2016, they purchased their own property at the bottom of Cape Lookoff Mountain in the hills of Vermont. Today, Ice House Farm is located on just over 16 acres of land just above the snow line. The land is mostly meadows with old pastures and is covered in wild apple trees with a brook running through it.
The Beckwiths started out raising dairy goats because they were having a hard time finding goat's milk in their area. They decided to purchase dairy goats of their own and supply nutrient dense goat milk to customers in the local community. After falling in love with their goats, and meeting so many wonderful people during their first year, the Beckwiths started planning how to expand their business.
The Beckwiths now raise Certified Animal Welfare Approved by AGW dairy goats at Ice House Farm in Goshen. In addition to being Certified Animal Welfare Approved by AGW, the dairy goat herd at Ice House Farm is Certified Grassfed by AGW, the first—and only—food label in the U.S. and Canada that guarantees food products come from animals fed a 100 percent grass and forage diet, and raised entirely outdoors on pasture or range. Ice House Farm is the first dairy goat farm in Vermont to receive this leading grassfed certification.
The Beckwiths manage the small herd of ADGA Registered purebred Alpine dairy goats, purchased from another Certified Animal Welfare Approved by AGW farmer in Vermont. "We like the idea of a high-producing herd with good dairy lines and breeding," Morgan explains. "We keep very detailed production and health records of our small herd."
According to Morgan, the most important aspect of their animal husbandry is what the goats eat: "We believe a truly grassfed diet for dairy goats negates common gut problems, and results in healthier goats," says Morgan. "We used to feed grain when we first got our goats. But when we weaned them off of the grain we found they did so much better, and the quality and flavor of the milk improved, too."
Pasture-based management is fundamental to the management practices at Ice House Farm: "We were really concerned when looking for land about having pasture and browse for the goats, since they like a little of both," says Morgan. "We like for them to be able to choose what they eat and live an enriched life where they can move through different areas of rocks, woods, pastures and so on."
When Chad and Morgan were searching for a third-party certification to promote their high animal welfare practices to their customers, they felt they most aligned with the thoughtful and complete standards of the Certified Animal Welfare Approved by AGW and Certified Grassfed by AGW programs. In the coming years, the Beckwiths plan to expand into producing different goat's milk yogurt flavors to sell in addition to their fresh goat's milk.
Ice House Farm's Certified Animal Welfare Approved by AGW, Certified Grassfed by AGW goat's milk products are available directly from the farm and at various seasonal farmers' markets. Check AGW's online directory for details. For more information about Ice House Farm, visit icehousefarmvt.com and the farm's Instagram page, Facebook page or contact Morgan Beckwith at goats@icehousefarmvt.com or 802-247-1443.