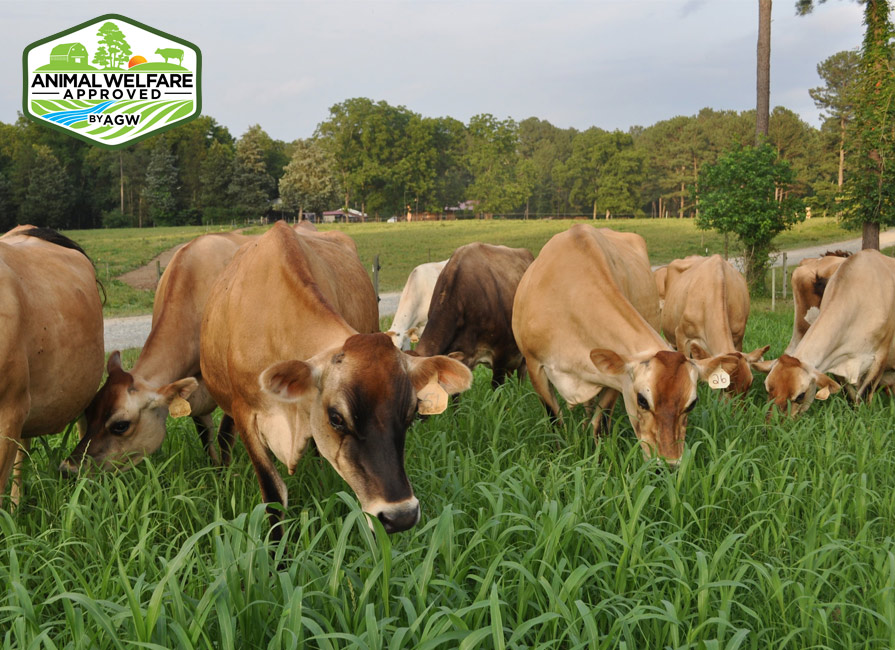 Chapel Hill Creamery – Chapel Hill, NC
Portia McKnight and Flo Hawley raise Certified Animal Welfare Approved by A Greener World (AGW) Jersey dairy cows in the Piedmont region of North Carolina. Portia says the venture began because they wanted to make cheese and needed a high-quality milk to start with. "We had certain criteria for our milk and wanted to be able to understand and control the milk quality," she explains. After a year-long apprenticeship with another dairy farm, Portia and Flo started their own herd. Beginning with nine dairy cows, they now milk thirty. They also raise steers for beef and are looking for more land to expand their grazing. Portia says they chose the Jersey breed because it fits so well with the local climate: "Jerseys are a great fit for our area because they can take the cold, but they also do well in the summer heat. Their rich milk also makes great cheese."
Chapel Hill Creamery is located on 37 acres of farmland that had been abandoned since the mid-1960s. With the help of their herd manager Allison Sturgill, Portia and Flo now utilize 25 of those acres for rotational grazing. To help bring the soil back to the fertility required for a grass-based dairy operation, they have applied a range of nutrients, including lime and other minerals, chicken litter, as well as regular applications of composted manure from their barn. Portia says the most important aspect of their management is that they are "incredibly attentive to hygiene" – in both their animal management and their cheesemaking.
Portia explains that the biggest benefit of pasture-based management is the health of the cows, specifically in terms of hoof and leg health: "It's better on the cows to be walking on the earth instead of concrete," she says. "Also, the cows enjoy being on grass – it's what they're meant to eat and what their bodies are designed for." The system is a win-win, as evidenced by Chapel Hill Creamery's popular cheeses, known for their rich flavor and bright color, which Portia attributes directly to the cows' diet: "Our cream is golden yellow because the cows are eating grass."
On the decision to become Certified Animal Welfare Approved by AGW, Portia explains it was a natural extension of their farming philosophy: "If I were a cow, I'd rather be on our farm than any place else. They are in a low-stress environment. Flo and I have a team-oriented mentality and we think of the cows as a part of that team. It fits in with the AGW philosophy very well."
Certified Animal Welfare Approved by AGW products from Chapel Hill Creamery can be found at area farmers' markets, restaurants, and retailers. Check the AGW directory for details. For more information, be sure to visit www.chapelhillcreamery.com and the farm's Facebook, Instagram and Twitter.