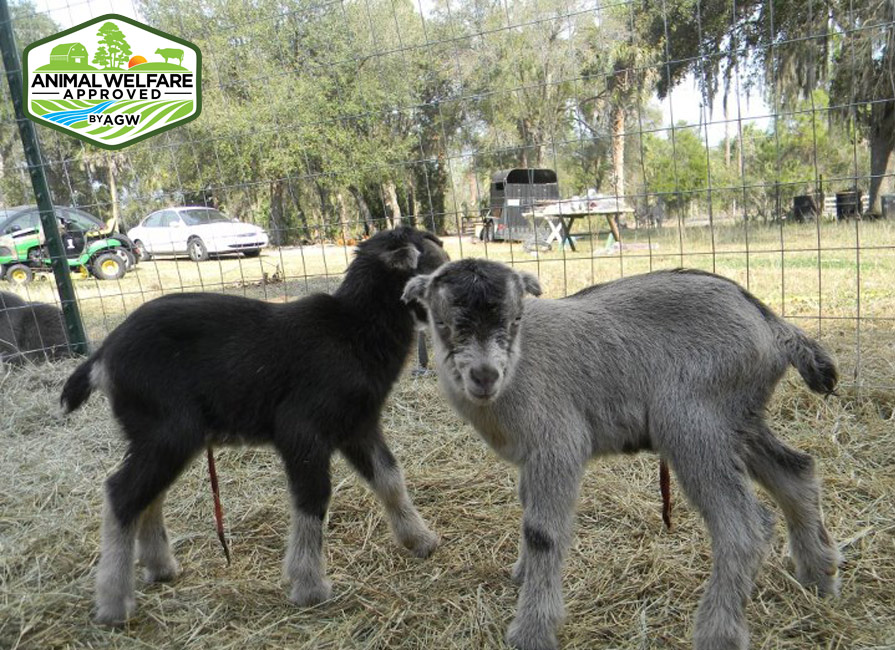 Paradise Plains Farm – Osteen, FL
Keith and Suzanne Gebelein raise Certified Animal Welfare Approved by A Greener World (AGW) dairy goats in Osteen, FL. Both Keith and Suzanne grew up in families with agricultural backgrounds, and gardening was a constant throughout their childhood. The couple now has a small 10-acre farm of their own and they are working hard to improve the condition of the pastures using sustainable methods.
The Gebeleins currently raise 25 breeding dairy goats, mostly Nigerian Dwarf with some Nubian, Alpine and Lamancha bloodlines as well. These breeds were carefully chosen for their production qualities and adaptability to Florida's climate. The goats play a central role in the Gebelein's five-year plan to reinvigorate the land through extensive pasture-based management. By regularly rotating the goats through various paddocks, Keith and Suzanne hope to naturally fertilize and replenish their soils and improve the pastures for future agricultural use.
On their decision to become Certified Animal Welfare Approved by AGW, Keith explains it was a natural fit for their farm and effectively communicates the Paradise Plains Farm philosophy to its customers: "AGW embodies many of the policies that we adhere to. Being certified lets people know we treat our animals well." Suzanne adds, "We have always felt that, regardless of where an animal was in the food chain, it deserves to have a good, comfortable life from birth to death." This philosophy is the foundation of Keith and Suzanne's long-term goal of having a profitable farm using sustainable, high-welfare methods.
Paradise Plains Farm's Certified Animal Welfare Approved by AGW products (including goat's milk fudge!) are available directly from the farm and at area markets. Check the AGW directory for details. For more information visit the farm's Facebook page.