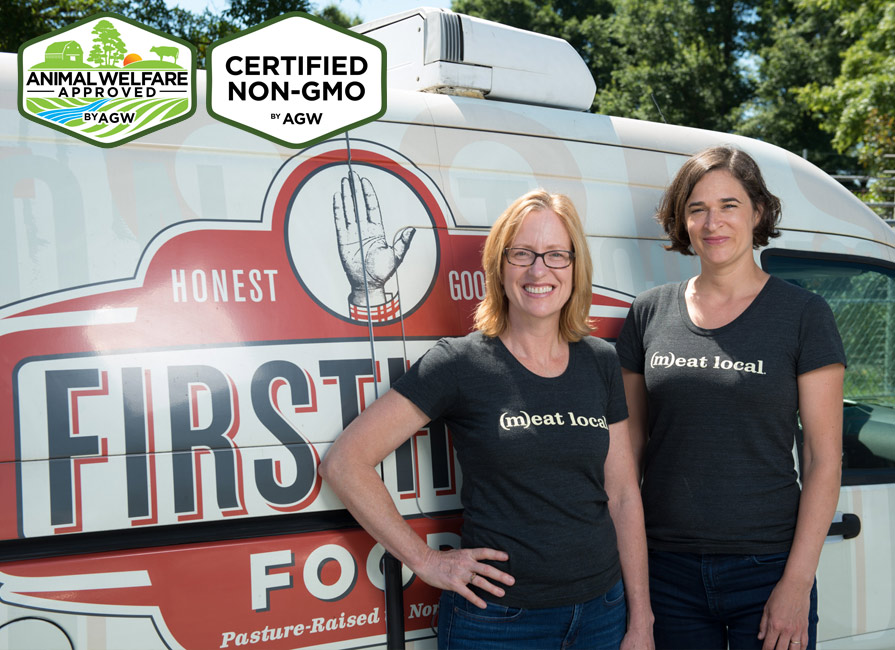 Firsthand Foods – Durham, North Carolina
In 2008, Jennifer Curtis and Tina Prevatte Levy, Co-Founders and Co-CEOs of Firsthand Foods, merged their professional and personal interests to develop a wholesale meat business that supports independent sustainable farmers by providing and building markets for their pasture-raised products.
Firsthand Foods offers fresh cuts and specialty products made from Certified Animal Welfare Approved by AGW and Certified Non-GMO by AGW pork from the North Carolina Natural Hog Growers Association (NCNHGA), an established cooperative of AGW-certified producers dedicated to high-welfare, sustainable farm management and pig production. The pigs raised on NCNHGA farms have room to roam and demonstrate behaviors like rooting, grazing and exploring with their snouts—a fundamental component of the Certified Animal Welfare Approved by AGW program standards.  Certified Non-GMO by AGW is the only certification and logo in the U.S. and Canada that guarantees a food product is produced without the use of genetically modified feed, supplements or ingredients, and comes from animals managed according to the Certified Animal Welfare Approved by AGW leading welfare and environmental standards on an independent farm.
In addition to AGW-certified pork, Firsthand Foods also offers fresh cuts and specialty products made from Certified Animal Welfare Approved by AGW lamb from AGW-certified producers in the Firsthand Foods lamb network. The flocks of sheep are rotationally managed, grazing one section of pasture before being moved to fresh fields. This management approach allows grass to recover before sheep return to graze again; it also keeps the soil properly fertilized and minimizes the build-up of internal parasites, thereby avoiding reliance on chemical treatments.
Firsthand Foods is committed to transparency, one of the reasons they choose to source from AGW-certified producers. "At the end of the day, we're in the relationship business and treating folks with respect and transparency is central to our model," explain Jennifer and Tina. "We're excited to build a new way to bring meat to your table and inspired to be a part of a dynamic and equitable food community that allows every person, animal and place to thrive."
AGW-certified pork and lamb from Firsthand Foods is available at restaurants and other retail outlets around the region. Visit the AGW directory for more details. For more information about Firsthand Foods, visit firsthandfoods.com and follow them on Facebook, Instagram and Twitter.