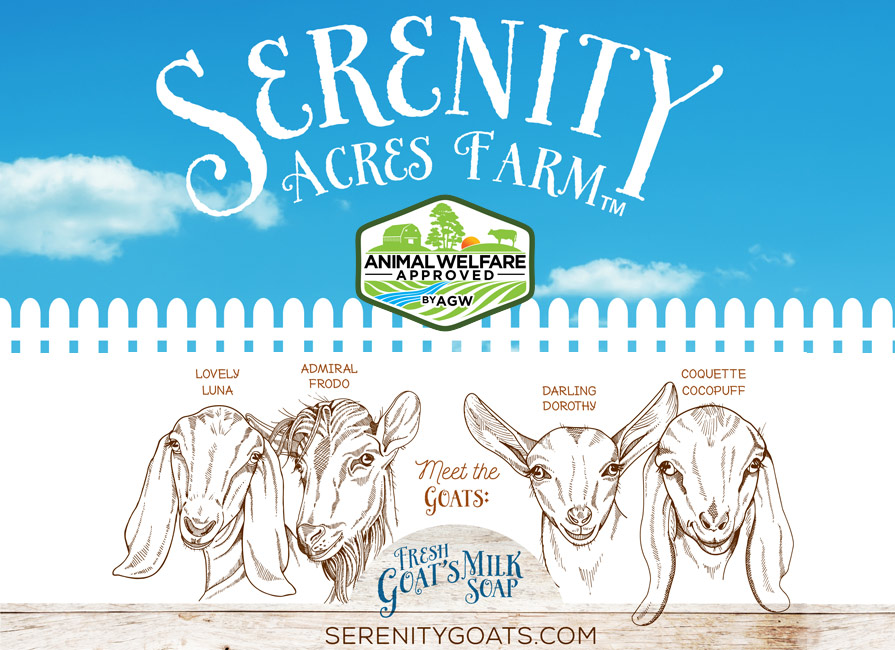 Serenity Acres Farm – Pinetta, FL
Julia and Wayne Shewchuk have owned and operated Serenity Acres Farm in Pinetta, situated in the rolling terrain of north Florida, since 2008. One third of the farm's 60 acres is still in southern hardwood forest and the rest is improved pastures, and home to their Certified Animal Welfare Approved by AGW laying hens and dairy goats.
The story of Serenity Acres Farm began with a weekend getaway at a little cabin in the woods. "This slowly turned into a new way of life with a mission and purpose, as we experimented with creating all-natural products that could easily be incorporated into daily life, and then started sharing those products with our friends at home and at the farmers' markets," says Julia. "Tired of needing a dictionary and chemistry degree to decipher food and skincare labels, we initially concentrated on those two areas." The rest, as they say, is history!
Julia and Wayne seek to provide the healthiest and most natural environment for their animals. Becoming Certified Animal Welfare Approved by AGW was a validation of their operation and an additional marketing tool—communicating to their customers with the help of an independent third-party certification that they are raising their animals according to the highest welfare standards. As a WWOOF (World Wide Opportunities on Organic Farms) farm that hosts many young people from across the world who are interested in farming, Julia and Wayne feel that the example set by their high-welfare practices can influence a future generation of farmers.
"We love our animals and want them to be happy and healthy," say Julia and Wayne. The Shewchuks believe the welfare of their animals is vital to ensure the most nutritious milk, which is also used to make chevre, butter, yogurt and their award-winning, popular goat milk soap. Serenity Acres Farm sells their Certified Animal Welfare Approved by AGW goat milk products, as well as pastured eggs, directly to customers at local farmers' markets and from the farm. Goat milk soap and skin care products are also available for to order online. For more information, visit serenitygoats.com. Follow them on Facebook and Instagram.